US Netflix and VPN Services Overview
If you live outside of the Unites States you may have noticed that you can only access a U.S. Netflix service specifically designed for your country. At first glance this may not seem like a problem, until you realize that the services provided for some countries may not match the services offered in the U.S. Certain TV shows or movies available through Netflix may not be accessible by you. This is why it is valuable to use a VPN service.
Why does U.S. Netflix have content my country's Netflix doesn't?
This basically boils down to one thing: territorial licensing rights. When production companies sell the licensing rights for their products, different licenses are sold for each country or region. When Netflix joins the bidding war for licensing rights in different territories, they run algorithms to determine if the interest level in different areas will justify buying the license for that region. For example, if there is greater interest for a new movie in America but not in India, Netflix will buy the American license, but not the license that would allow users in India to stream the movie. This is why it is beneficial to use a VPN service; through one of these programs, you can effectively mask your computer or personal device's origin, making Netflix think you are streaming service in the U.S. and giving you access to a wider variety of content.
Best Netflix VPN That Work in 2018
What is a VPN service and how does it work?
A VPN (or Virtual Privacy Network) can mask the geographical location of your computer, tricking servers into thinking you are actually in a different country. VPN services do this by hiding your IP address (the code used to identify your computer or device) and directing your traffic through a private network. This lets you browse the internet anonymously. When you select an American private network through your vpn service, servers like the ones Netflix uses cannot detect where your computer is located, so they assume your traffic is originating from within the U.S. This allows you to access Netflix as if you had an American-based account.
War Between Netflix and VPNs
For years Netflix ignored the use of VPNs by its users. That began to change in early 2016 though, as pressure from other content providers came to a head. Providers who held the legitimate licenses to content not available on U.S. Netflix were loosing revenue when individuals chose to use a VPN to access the content on Netflix rather than paying their local providers who held the official licenses. This caused other companies to put increasing pressure on Netflix to deal with the problem. In response, Netflix began a crack-down on VPN services, creating blockages that would prevent users from working around the geo-locks Netflix puts on various content.
This angered users who utilize VPN services for the increased safety and security that comes from browsing the internet anonymously. Additionally, many users outside of the U.S. felt that it was unfair that they were paying the same price as American users, but receiving significantly less content. In response to Netflix crackdown, VPN services began developing 'work-arounds' to get past the new features attempting to block proxy access. A back-and-forth war has been going on ever since, with Netflix creating new blocks to stop VPNs which keep finding new ways to get around these measures.
Some VPN providers have given up entirely, determining that they would never be able to keep up with the continuing development of measures to shut down their ability to access Netflix. However, as this article points out, some feel that Netflix is more interested in showing other content providers that they are attempting to do something about the problem than they are in actually stopping VPN access. This would explain why some VPNs still enable non-U.S. users to access American-specific content on Netflix.
U.S. Netflix
A Few Questions You may Have About VPN Services and Netflix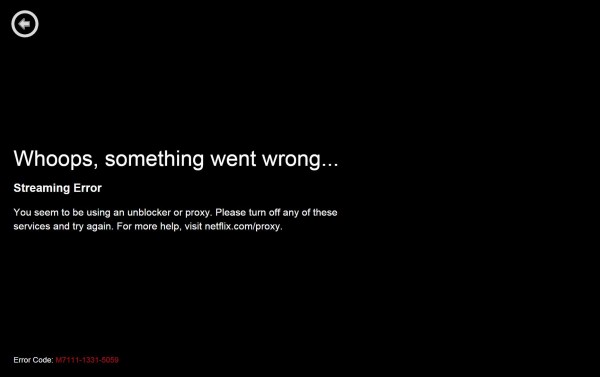 NETFLIX PROXY ERROR DETECTED – Why am I seeing this screen?
This means that the VPN services you are using are not able to unblock us netflix. You can get around this by switching to a VPN service that has not been blocked by Netflix.
No, or at the very least, it's highly unlikely that you will. Netflix has updated its terms of service so it is technically possible for them to ban users found using VPN services. However, since Netflix doesn't want to lose customers and the use of VPNs is so wide spread, this is most likely an action meant to appease other service providers. There are no wide-spread reports of accounts being banned for the use of VPN services. Netflix understands the value of keeping as many paying customers as possible!
I already have a Netflix subscription in my country. Do I have to subscribe again for U.S. Netflix?
You do not need to get a second subscription to access U.S. Netflix, you can log on with your existing account! Log into your existing account like usual and the VPN will trick Netflix into assuming you are in the United States. So while the login process will be the same, if you are using a VPN service you will automatically have access to content not usually available in your country.
Can I use a VPN to watch other country's Netflix besides the U.S.?
This depends on the VPN. Not all VPN services are the same, some are made specifically to look like your traffic is origination in the U.S., while others may be more concerned with masking your IP address in general. It's also possible that the VPN service you're considering might not be equipped to work around the blocks to access Netflix based in a country other than the U.S. Always ask your VPN service provider before subscribing, and be sure to make use of any free trials to ensure a VPN service covers all your needs before signing up.
Can I use a VPN to unblock Netflix on other devices?
Yes, VPN services can be used on many devises, as long as you have a fast internet connection. There are some devices, however, that don't support VPN services, or run much slower when a VPN is in use. Some of these devices include smart TVs, PS4s, Blu-ray players, etc. In these cases, it's better to use a SmartDNS. A SmartDNS works similarly to a VPN, in that they both mask your true geographical origin. SmartDNSs do this by routing your internet access through a proxy server based in the U.S., but they do not mask your device's identity. When choosing a VPN service, be sure to pick one that also provides SmartDNS if you will want to access U.S. Netflix through one of the devices mentioned above.
Can all VPNs unblock Netflix?
No, some VPNs are focused solely on providing security for internet browsing, so they have not worked on finding solutions to work around recent blocks imposed by Netflix to stop unapproved access. Other VPNs may have been able to access Netflix in the U.S. at some point, but may now be thwarted by Netflix's blocks. When considering which VPN service to subscribe to, be sure to make use of free trials, or contact customer support and ask about their service's abilities to access Netflix, in which regions, and on what devices. Remember to ask about SecretDNS services as well if needed.
How to Choose a VPN Service
With all of this information, how do you pick the right VPN service for you? There are a few factors you will want to consider, including pricing, security, connection speed, and satisfaction policies. If you are using a VPN for added security when accessing the web, choose a company that focuses more on security features. If you aren't interested in security as much and are mostly looking to access geo-locked content on sites like Netflix, you should focus more on speed and reliability in countries you are living in and trying to access content in. When looking at pricing, keep in mind that while yearly plans can be less expensive, you often have to pay for the whole plan upfront, and are locked in for the year and unable to switch services without loosing money if the VPN you are using stops being able to access all the sites you need. It is better to choose a monthly plan so you have more flexibility in the continually changing world of VPN features and geo-blocked content.
Conclusion
If you don't know what to start. We recommend to go with No.1 VPN in a table. Try just one month to see how it goes.
Read more..